Wavy Icons
Get your own for only $6!

awesomewaves.deviantart.com/bl…

Commissions Open!

Snapshots
Here's a little peek into my life...
Nan Desu Kan
Denver's local anime convention, NDK, was September 10-12 and it was my 6th year attending. Had an awesome time that was SO much less stressful from last year. Even attended my first anime panel! Thanks a bajillion to my costume handlers that I would die without: ~ReyTiger *SorinCrecens and ~Sanyai.

I went as Shadow Lugia and much enjoyed my time as such; though once I get my wings fixed, it'll be so much easier to deal with the costume. I do plan to bring it again next year. Now to make you wait in anticipation to hear what my next costume plans will be :>
School
Uuuggh. School is really really REALLY not helping me by being in my life right now. I could live without the stress it causes me; it's ridiculous. What I wouldn't give to just take a that one quarter off. Stupid system not letting me. Long story short finals week is this week so sorry guys, I won't be on DA for the rest of the week. No commissions. No message checking. I'm going to try to not even log on. I need to focus on getting through the rest of this quarter even if it kills me (because so far it is) :/
Life
Honestly the other half that's killing me is managing my social life here on the interwebs. My never-ending to-do list, message count, and responsibilities with an ever-worsening artwork attention that's leading to a quickening online popularity? Not as fun as it could be. I can't deal with all this stress at once much longer. What I've ended up doing is putting DA as priority #1 above anything else in my life when I should be doing my schoolwork or eating or sleeping or spending time with important people in my life. It's gotten so bad that I dread my "relaxing home time" because it means an endless chore that no matter how hard I work at completing it, it never gets done. Working at Jo~Anns has become my relaxation/enjoyment time instead. I seriously enjoy work more than my time spent at home or school.
It's put me in probably the worst mood I've ever been in in my life.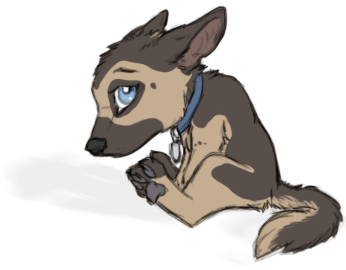 I have to stop piling it all on my back and the first step is to cut myself off from the less important internet stuff. Focus on what needs to be done in my life and get a better gameplan because what I'm doing now isn't working. Everything I've tried has failed miserably and is giving me an image of being completely unreliable, irresponsible, and slow. I can't live this way, it isn't me. So after finals are out of the way, I'm going to put myself through days of torture to get this back in order. Not looking forward to this one bit... but I guess it's necessary. I feel much better if I can accomplish things.
So bear with me for the next month. I'd ask to help me out try and refrain from messaging me unless it's really necessary. I don't have time to answer every costume question I get anymore, please go to the fursuit LiveJournal community for that fursuit.livejournal.com . I'd prefer to not take on any more commissions until my list has been cut down more... unless you're willing to wait awhile to get it (I always need money, haaaa). I can't spare the time to respond to every single comment I get; but I still read everything I receive. I still love you guys <3

Promotions
Check out my brother

's kick-ass Pokemon music! reytiger.deviantart.com/galler… He's learning all of the original Game Boy songs from the Pokemon games by ear on his guitar and posting covers online! There's over 25 songs so far and counting, he's pumping them out real quick thanks to the inspiration and feedback of people enjoying them so much. Trust me, childhood memories will be had, go support his work! I can't stop listening to them Here's some of my favorites he's done so far.

Viridian Forest | Cerulean City | SS Anne: | Pokemon Gym
One of my friends

is having a super special awesometasticular deal right now: $1 sketch commissions! And these aren't some crappy things either, I wouldn't recommend her if this wasn't worth your time to check it out. Go support her awesomeness! Here's an example she did for me to entice you :3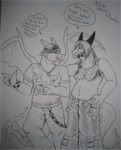 One last promote I forgot about when I originally posted this journal... fellow awesome person

is offering adorable $10 chibis! I got myself a Shadow Lugia from him and he was wonderful to work with, definitely recommend:

Upcoming
Besides all the bitching I've done about how much work I have and life rawr rawr... there are some other awesome things I'm planning on that you can still look forward to.
I'm in process of finally creating my new Pokésona now that the 5th gen has been released, allowing me to consider as many options as I can. I plan to re-do my feetpaws YouTube tutorial soon along with posting a text version for quick reference. I have a special event I'll be revealing over the month of October. I'll be redesigning my DA userpage to be less cluttered and more helpful. I'll be posting much more art as I have hundreds backed up over the past few years that I've yet to upload. I plan to also catch up my alternate galleries (FA/SA) to reflect the current state of my DA. I'm going to be also fixing up the poorly managed and rejected PokéCrafts group because its current state urks me. I'm sleep deprived so I can't think of what else is immediate and upcoming, so I may edit this section a bit later. Whatev. I need to sacrifice my soul to school for the next few days. See you then... if I make it out alive...
Oh, and want a chance to get a free wavy icon or other art? Check out my point donation bar on my userpage for details. The 25% mark has now been reached! I'll announce the first batch of winners soon. Keep saving up those points, even donating one point will enter you into the drawing for a free icon!